A Get Away in Fuerteventura, Canary Islands
Who hasn't thought of leaving everything behind for a week, a month.. or even forever? :)We know the lack of social interaction and working from our living room has affected all of us. Let us brighten your day, and come along to the Canary island of Fuerteventura!  We found the best places to stay, and selected our favorite restaurants so you have no excuses.  It's time to take a breath and get to know this paradise!
The Airport is around 30 minutes driving from the main city of Corralejo. Car rentals are the cheapest option, as a simple cab ride can cost visitors 60€ just to reach the main city! Happily, once you've taken the precautions and verified the rules, you can enjoy the open restaurants and bars. 
We recommend you to stay in Corralejo which is the main city of the Island and where there is all the nightlife. 
 When you're not enjoying the nightlife or grabbing a meal there are plenty of other activities to enjoy on the island. Many of the coworking spaces and gym facilities are also open, just in case you need a quiet space to catch up on emails or get a quick session in. 
Where to stay in Corralejo
Are you a Digital nomad? Looking to escape on Romantic get away? Organizing a trip between friends?
No doubt, this island has something to please even the pickiest of travellers.  
Why not enjoy a quick stay at the beautiful Avanti hotel?  This Boutique hotel has only 15 rooms, so don't wait too long to book! It's location in the city center and just steps away from the beach is th perfect setting to enjoy a  peaceful and romantic time! (check out our dedicated article here) Don't forget to book a table at their Rompeola restaurant to enjoy some delicious seafood! 
Price around 140€/night. Thanks to a partnership with them you can enjoy 20€OFF/ night + a bottle of prosecco. You just need to book directly  on their website with our code FRENCHIES21.
Atlantis Garden  Beach

,  perfect if you are a couple or alone, their appartements are clean, really well located by the beach and close to supermarket. (+ Pool & Tennis court).Price 50-60€/night

Bristol Sunset lounge,

modern and well equipped apartments. Perfect to meet other digital nomads as they also offer a  Coworking  package and long stay offers. Price from 70€/night
Corralejo is full of beautiful, spacious villas all well located and prices reasonable to a variety of budgets. We specifically recommend:
Villa Casa Royal by Vacanzy Collection. a large villa for a group of people (Up to 10 pers), with pool, BQQ and well located
…and many others that you can find on booking.com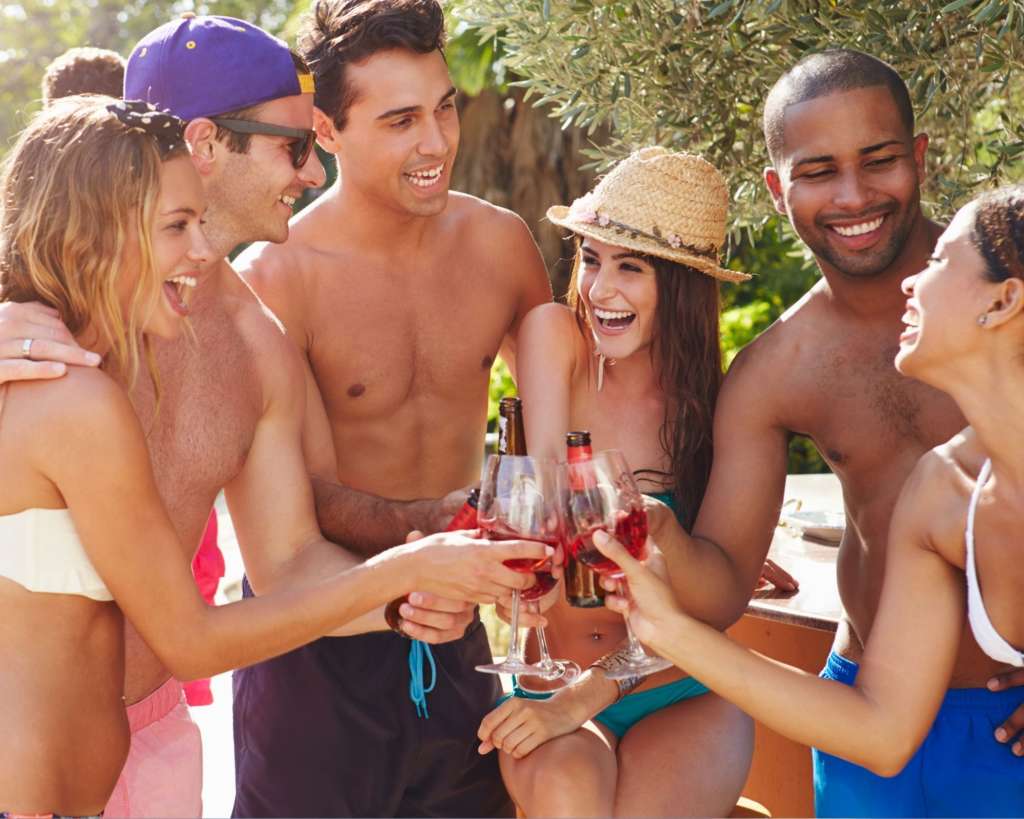 Restaurant & Bars in Corralejo:
The city center offers a large choice of tapas restaurants with live music so get ready to dance away your stressful time back home! 😉 
Ready for a drink? Head over to La Ezquina or the Kaktus Bar for some good cocktails and chilled vibes . You won't want to miss the Kiwi Bar for a taste of the night life and to mingle with other friendly partiers. 
Good to know: Be aware that you'll need to book in advance before going to the restaurants! 
What to see in Fuerteventura:
> North island: 
 – Corralejo has the best beaches on Fuerteventura, with fine, white sand and turquoise waters
– Corralejo Natural Park (Corralejo) is one of the essential places to visit in Fuerteventura. Be sure to stop by around sunset to grab some seriously impressive photos.
– Calderón Hondo volcano.  It will take you about an hour to complete the moderately difficult route. 
– El Cotillo, The most popular beach in Cotillo is La Concha beach, which stands out for its fine white sand horseshoe shape. With limited the waves, its the perfect seabed for snorkeling.
– Our favorite the is Playa Esquinzo,  well known from the surfers!  bring some beers, some aperitif  and enjoy a breathtaking sunset!
> South Island:
It's really easy to reach the south with a car within 2 hours from Corralejo. However, to really enjoy it we recommend you stay for a few days!
– The innside by melia, is our number 1 recommendation without hesitation. Directly located on the Jandia Natural Park and Sotavento beach, it's the perfect place for both Wind sport lovers, but also for the one who needs to just relax and disconnect! 
 The hotel offers a breathtaking view on both the lagoon and the Natural park. And you can enjoy  the  view directly from  their infinity pool and with one Piña colada (Obviously 😉 )
– With white, fine sand, no facilities, and no crowds, Sotavento beach ( Cossta calma)  is ideal for those who want some privacy. It is, without a doubt, one of the most beautiful beaches in the south of Fuerteventura. 
– The René Egli kitesurf center  (located just steps from the Innside by Melia hotel) offers classes but also all the equipment required to rent! No need to bring from home or Corralejo they've got your back! 
– Cofete beach : A  must-see, the most beautiful beach of the island!!  It is difficult to get there and the locals recommend you drive a 4WD to make it there comfortably. Make sure you have a car that cans handle the journey or risk literally getting stuck in paradise! 😉 
Don't hesitate to let us know your thoughts and follow us on Instagram and Facebook!
Want some good deals? Register as a member and enjoy our best discounts!