Behind the Scenes of Apéros Frenchies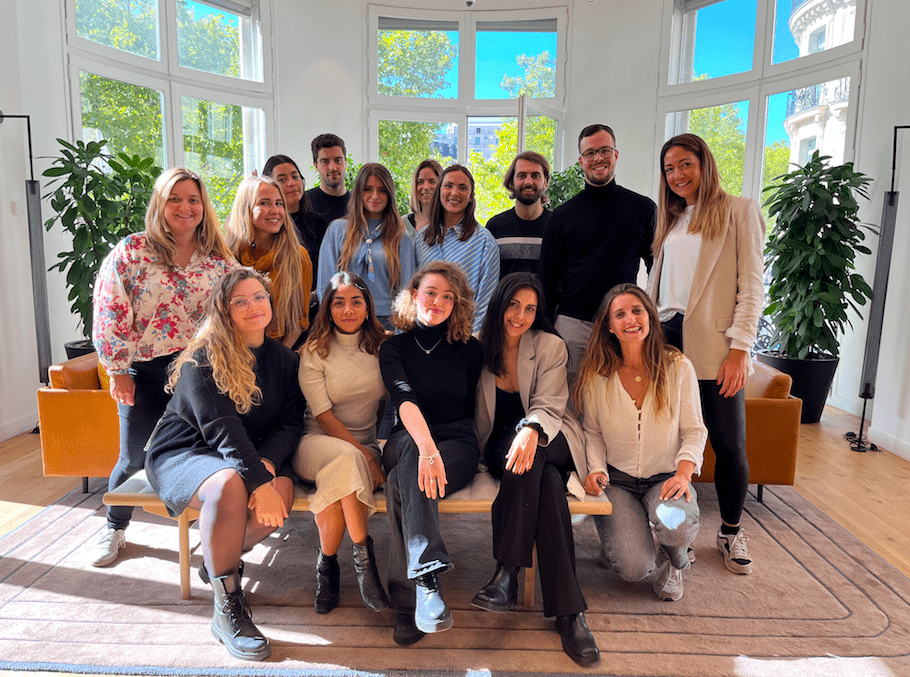 You know our events, our community, but do you know what happened in Paris last week-end? It's time for a behind-the-scenes focus on a week-end like no other!
The journey of Apéros Frenchies has been nothing short of a wild ride. Starting in Frankfurt, Germany in 2015 and spreading its wings to six other cities, this party train shows no signs of slowing down. From Munich to London, Paris to Amsterdam, Apéros Frenchies has left its mark and continued to grow with a presence in four cities each month. And now, the destination is set for even more expansion with upcoming stops in Brussels and Bali. Covid-19 couldn't stop us and nothing will! To bring the entire team together and celebrate our success, we've headed to the heart of art-de-vivre, aperitifs, and love – Paris. 
Sharing is caring, here is what we did! 
Friday night: Rendez-vous  a few steps away from the Champs Elysées, in this iconic, chic and lively place: Le Pley hotel. 
How lucky we are to have spent a week-end in one of the most beautiful hotels of the capital. Sipping good cocktails on the rooftop and enjoying a view of Paris' rooftops and of the Eiffel Tower …
Unleashing our studious side, we hit the WeWork office on Champs Elysées for a day of enlightening workshops. Led by Co-founder Marie Anne, the team was treated to a training session and an engaging talk with Lucas, co-founder of NOLEO and SWAY.AI and a renowned teacher at Parson's School of Design. We discovered the intricacies of the human mind and acquired tactics to engineer relationships and hack the sales machine.
Contrary to popular belief, the AF team is not just all fun and no work. After a day of learning, we hit the streets of Paris for a well-deserved stretch of their legs. 😉
Proving that our thirst for knowledge knows no bounds, we proves that we're more than just party animals.
Escape game 
Feeling adventurous? Let's explore the sizzling streets of Paris and unravel its mysteries! Do you have a knack for escape games and a passion for French history? Look no further, our team building game has got you covered. Experience the thrill of solving puzzles inspired by the French Revolution and the secrets of Montmartre. And don't worry about the language barrier, they've got it all sorted with English options too! It's the perfect blend of culture, strategy, and fun – are you ready to embark on this unforgettable journey?
Diner at Uma Nota:
We celebrate diversity and international flair, and that's why we chose the vibrant Uma Nota restaurant. Indulge in the unique fusion of Japanese and Brazilian cuisine, surrounded by a lively atmosphere and colorful decor. Located in the heart of Paris, on the sunny rue Réaumur, Uma Nota is a true oasis of fun, reminiscent of the legendary samba clubs of Brazil.  If you are looking for a place to eat and dance, pack your dancing shoes and go to Uma Nota for a night of culinary delights and non-stop partying!"
What happens to Apéros Frenchies stays at Apéros Frenchies and we won't give you any further details about this wild night !
Sunday morning was not easy for most of us… which is often a sign of a good night! (Thank you Pley Hotel, for allowing us to comfortably catch up on some sleep, despite a short night!).
We headed to Gare du Nord, where most of the team had to take their train home in the afternoon!
It's at the NENI restaurant (inside the 25h hotels) that we had the pleasure to brunch!
Elegance, comfort and creativity, Neni's interior design is simply unique. So is its middle eastern food (that you can check it out here) .
The brunch is everything you're happy to have on a Sunday morning, a huge selection of salty and sweet plates, and of course some delicious sandwiches inspired by Mediterranean cuisine! There's something to suit any taste.  
This all-you-can-eat Brunch is available every Sunday until 3pm for 39€ including 1 hot drink & 1 fresh orange juice.
All good things must come to an end and our team said "See you soon" after a memorable weekend.
If you have any questions don't hesitate to ask your ambassador: there is no secret anymore!
See you soon at one of our events in Europe?