Get ready to add some excitement to your London adventure! We're thrilled to invite you to our newest London hotspot, the Skylight Bar in Peckham, a fantastic venue with a covered and uncovered rooftop!
Skylight Bar offers a blend of live music, sensational drinks, and breathtaking views of the city. Nestled in Southwark, a neighborhood celebrated for its cultural diversity and artistic community, it's the perfect spot to soak up the vibrant atmosphere.
Picture this: music that sets the mood, drinks that satisfy your taste buds, and yummy food, all served with a backdrop of the city's lights. Your night at Skylight Bar promises to be filled with enjoyment, intriguing conversations with other international young professionals, and endless fun.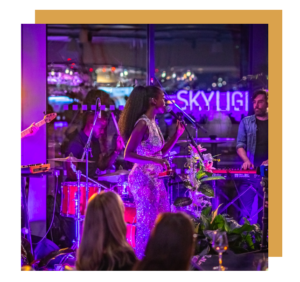 This is an experience you won't want to miss, so mark it on your calendar and join us for a night to remember!
Entrance: 10€ online or 15pounds at the door (including a welcome drink)
____________________
Cocktails, wine, beers
International vibes
Great people
Live music
𝐃𝐫𝐞𝐬𝐬 𝐜𝐨𝐝𝐞 𝐢𝐬 𝐜𝐡𝐢𝐜!
____________________
 Join the Jetlaggers Membership and experience the ultimate  premium treatment. Enjoy perks like priority bar access, reserved area, complimentary welcome drinks, free capsule events and exclusive private parties. Don't miss out on this opportunity to take your social life to the next level. Get your jetlagger boarding pass now!
_______________________________
IMPORTANT INFORMATION
The management reserves the right to deny entry to participants at the afterwork event.The ticket is non-refundable starting 48 hours before the event.
By attending the event at the Skylight Bar in Peckham on 09.11.2023, in London organized by Apéros Frenchies, you confirm that you grant Apéros Frenchies the permission to take and use audio or visual recordings and pictures of you that may be displayed on the Apéros Frenchies website or social media accounts for general publicity purposes. Your personal data will not be shared with any of our partners