We are absolutely delighted to extend our warmest welcome to all of you at the Terra Bar here in the vibrant city of Munich. On this 19th of October, we're about to embark on a truly remarkable journey into the world of cocktails at one of the hottest new spots in town, and I can assure you, it's going to be an unforgettable experience.
The Terra Bar is not just any bar; it's a groundbreaking addition to Munich's nightlife scene, a place where the art of mixology has found a bold and innovative home. 
You're about to enter an atmosphere of sophistication and creativity. Their bartenders are true maestros of the craft, it's a place where every cocktail is a masterpiece, created with precision and a deep understanding of flavors. They've curated a menu that not only pays homage to the classics but also embraces innovation and creativity. Every cocktail is a work of art and tonight you will be able to taste it!
We can't wait to see you in this new spot that will charm you and tempt your taste buds.
Entrance: 10€ online or 15€ at the door (including a Gin Citadelle Rouge welcome drink!)
Introducing Citadelle Rouge – Maison Ferrand latest gin masterpiece! Infused with cranberry, raspberry, blueberry, blackcurrant, and rhubarb, it's a nostalgic journey of flavor. Enjoy the pure, natural essence and elevate your Gin & Tonic game with this crystal-clear, intensely fruity delight.
____________________
Cocktails, wine, beers
International vibes
Great people
𝐃𝐫𝐞𝐬𝐬 𝐜𝐨𝐝𝐞 𝐢𝐬 𝐜𝐡𝐢𝐜!
____________________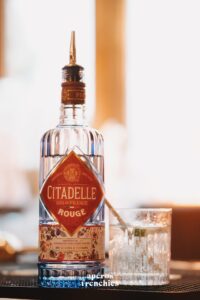 Join the Jetlaggers Membership and experience the ultimate  premium treatment.
Enjoy perks like priority bar access, reserved area, complimentary welcome drinks, free capsule events and exclusive private parties. Don't miss out on this opportunity to take your social life to the next level. Get your jetlagger boarding pass now!
_______________________________
IMPORTANT INFORMATION
By attending the event at Terra on 19.10.2023, in Munich organized by Apéros Frenchies, you confirm that you grant Apéros Frenchies the permission to take and use audio or visual recordings and pictures of you that may be displayed on the Apéros Frenchies website or social media accounts for general publicity purposes. Your personal data will not be shared with any of our partners.