Unwind and Sip Champagne: Your Relaxing Getaway at the Loisium in Champagne Hotel
Prepare for a Champagne getaway like no other at Loisium  Hotel. It's luxury, adventure, and relaxation all rolled into one. Join us as we explored this hidden gem nestled among vineyards and forests.
Nestled amidst the rolling vineyards and at the edge of a tranquil forest, the Loisium Hotel doesn't just beckon; it seduces you into a captivating rendezvous in the heart of Champagne. This is no ordinary retreat; it's a paradise for the discerning traveler and champagne enthusiast, a place where dreams don't just come true—they sparkle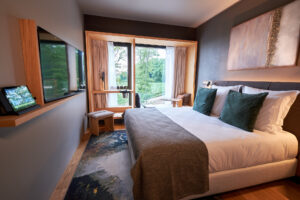 !
Imagine stepping into a world where time slows down, and every moment is a celebration. This enchanting oasis, part of the renowned LOISIUM Wine & Spa Hotels group, opened its doors in August 2022.
This place is an ode to relaxation, well-being, and, of course, champagne. As you arrive, you're cocooned by nature, with sweeping floor-to-ceiling windows that frame vineyards on one side and the lush forest on the other. It's an escape, a sanctuary, just an hour and a half from the frenetic pace of Paris!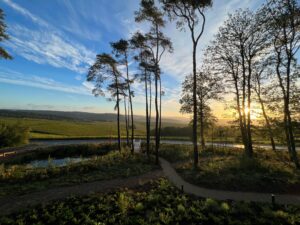 Inside, the hotel exudes elegance with its raw materials and earthy palette. It's a sensory journey through Champagne, where ingredients from an 80-kilometer radius are crafted into exquisite dishes, perfectly complemented by local wines and champagne. At
l'Horisium restaurant,
Chef Antoine Madelaine seduces you with creative regional specialties. In the brasserie, expansive windows offer breathtaking vineyard views. Les Bulles Champagne Bar invites you to unwind in a cozy ambiance while savoring the finest champagne.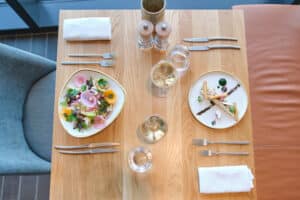 But it's not just about what's outside; it's also about what's inside—your soul, your taste buds, and your senses. The culinary experience here is a symphony of flavors, where ingredients sourced within an 80-kilometer radius embrace seasonality and local produce. These delights are perfectly paired with exquisite champagne and wines. At l'Horisium restaurant, Chef Antoine Madelaine takes you on a gastronomic journey, showcasing regional specialties with a refined and creative touch that leaves your taste buds tingling.
Beyond gastronomy, the Loisium  Hotel offers serenity and relaxation. The Spa Club by Saint Charles Apothecary beckons with a 1,000-square-meter sanctuary featuring panoramic forest and vineyard views. The terrace and solarium blend seamlessly with the picturesque surroundings, complete with a year-round heated outdoor pool and a food truck. Indulge in spa treatments in one of the four exquisite cabins. It's an idyllic retreat where you can embrace nature's beauty, savor the finest champagne, and create unforgettable memories.
1 Allée de la Sapinière
51160 Mutigny | FRANCE
Get directions